Adopt a Safety-first approach for a secure business


While dedicated servers offer a host of advantages over other web hosting options, it is also a likely target for hackers. Therefore, securing your servers has to be of prime importance. Failure to do so can result in an irreparable loss to business and credibility like in the following example.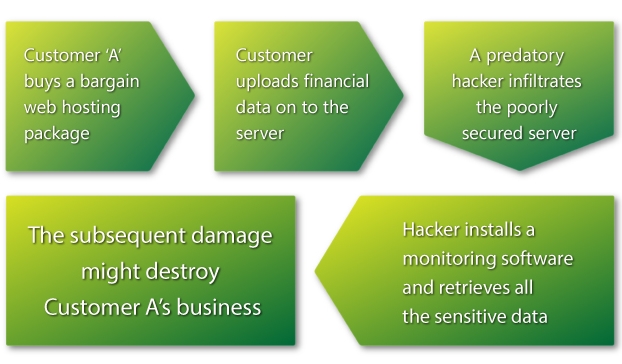 Here are 6 ways by which you can hack-proof your dedicated server:

1. SSL and Firewall

A firewall is a program that acts as a barrier between your LAN and the Internet. SSL protocol is used whenever authentication and data protection is necessary. While the firewall prevents malicious incoming code, the SSL protocol helps in sending and receiving encrypted data.

A firewall is essential to ward off Denial of Service type attacks. Equip your servers with SSL in the built-in firewall for additional security.

2. Intrusion Protection System

The IPS is an advanced protection system working in tandem with the firewall. It analyses incoming traffic at the source and only allows genuine traffic to go through. While firewall is reactive to hacking attempts, IPS is proactive in nature as it undertakes automated decisions like blocking traffic at the source, resetting the connection, sending an alarm to the administrator, etc.

3. Secure Passwords

Choosing a common password is a fatal mistake that many people make. Brute force techniques can uncover such passwords with ease. The strongest passwords are a random combination of uppercase and lowercase letters, mixed with special characters and numbers.

4. IP Whitelisting

IP Whitelisting helps prevent unnecessary traffic from accessing your server. IP Whitelisting essentially means providing access to select IP addresses. Therefore, the server is accessed by only trusted and verified IP addresses.

5. Script Updates

Always ensure your server scripts are up to date. These scripts and applications are responsible for the functioning of a server's internal dynamics. An updated script is usually a result of security flaws being exposed in the previous version.

6. Server Handling

The physical handling of the server has to be taken into account. The components need to be carefully maintained for optimum performance. Unauthorized physical access to the server can be catastrophic.

A good reseller hosting ensures that you not only get a customized cPanel but it also secures your server and network through various techniques such as IP blocking, Spamd Startup, and mod security. Hence, it is advisable to opt for professional hosting providers/resellers, as they are responsible for the hardware, software, system maintenance, technical support, monitoring, and updates, and in the process hack-proofing your dedicated server.