Cloud Infrastructure Company SingleHop Updates Dedicated Server Options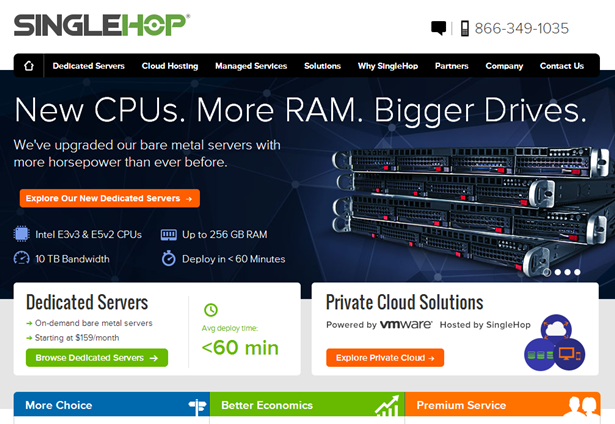 Cloud infrastructure company SingleHop has updated its dedicated "bare metal" server options. The company, recognized for its "automated bare metal" services, is making the move to address customer requirements for increased performance through "the latest and greatest hardware available".

SingleHop provides dedicated, cloud, and managed services to in excess of 4,000 customers in 114 countries through data centers based in the United States and Amsterdam, Netherlands. The company manages more than 10,000 servers. Alongside improved performance, SingleHop's new options will offer customers enhanced scalability and provide access to the "latest server hardware".

Utilizing Intel's "versioning concept", SingleHop's has now made it easier for customers to sources state-of-the-art hardware. In addition, to keep costs low customers can also chose older hardware which includes more RAM and storage space included free of charge. The company's enhanced options will also be available using an accessible and understandable pricing structure.

"This product line makeover marks a really big day for SingleHop as we now give customers access to not only a simplified pricing structure, but more importantly continued access to the latest and greatest processors from Intel," explained Vice President of Products at SingleHop, Jordan Jacobs.

"These 16 different server configurations all add up to create a well-rounded server portfolio," added SingleHop's CMO and Co-founder, Dan Ushman. "By streamlining our servers we can ensure that customers receive the best performance for their needs and by elimination the complexity and confusion involved in having a lot of server models, our customers can receive superior, focused service."

Do you know of any other companies upgrading services and products? Let us know the details. Add your comments below.





Comment News
| | | | | | |
| --- | --- | --- | --- | --- | --- |
| Connect with | | or | | or | |