Web Host 1&1 Internet, Ltd. Announces New Dedicated Server Option Launch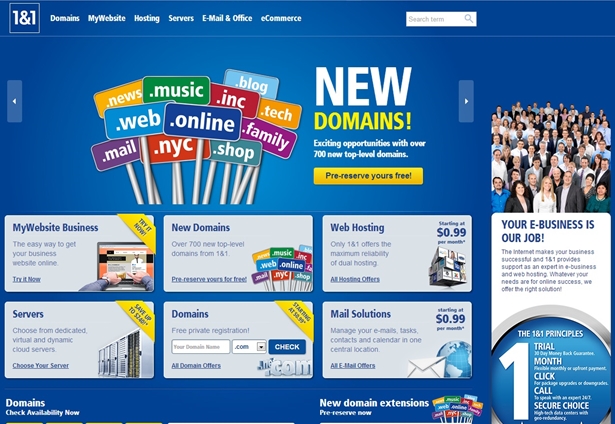 Web host 1&1 Internet, Ltd. has announced the launch of a new "entry-level" dedicated server option. The UK-based company's new A8i dedicated server offers an 8 core ATOM C2750 processor and is designed to meet the requirements of small- and medium-sized companies. The server is priced at £39.99 ($65) per month plus VAT with a £49 ($80) setup fee.

Founded in 1988 and located in Slough, United Kingdom, 1&1 Internet Ltd. is the UK branch of German 'United Internet Group' subsidiary, 1&1 Internet AG. The company caters for around 19 million domains and 12.5 million customers globally. The company operates 70,000 servers in five energy efficient data centers.

The company's new offering is available in Linux, Windows and Managed configurations and alongside 8 CPU cores offers 8 GB of RAM, 2 x 1000 GB SATA hard disk storage, 300Gbit/s external network connectivity and 64-bit support. The option is underpinned by ongoing technical support and the server can be operated using Parallels Plesk 11 or the company's native control panel.

8 CPU cores offers users extremely fast operating speeds and lower latency alongside the facility to simultaneously manage intensive website workloads. Intel ATOM technology also manages low CPU core power consumption.

"It is pleasing to be at the forefront of collaboration with Intel in applying this exciting new technology to a dedicated server environment," explained the company's CEO Hosting, Robert Hoffmann. "The result is a great 1&1 server package - compared to earlier versions, the new A8i server delivers 30 per cent more performance for the price-point".

Do you know of any other companies offering dedicated server options? Let us know the details. Add your comments below.
---
About Author
FindDedicatedServer.com's editor team is packed with professional who have been in web hosting business for a decade. We aim to provide helpful articles that will help our users making informed decisions when selecting web hosts.

Comment News
| | | | | | |
| --- | --- | --- | --- | --- | --- |
| Connect with | | or | | or | |